Pros VS. Cons: Are Converse Shoes Worth Adding to Your Footwear Collection?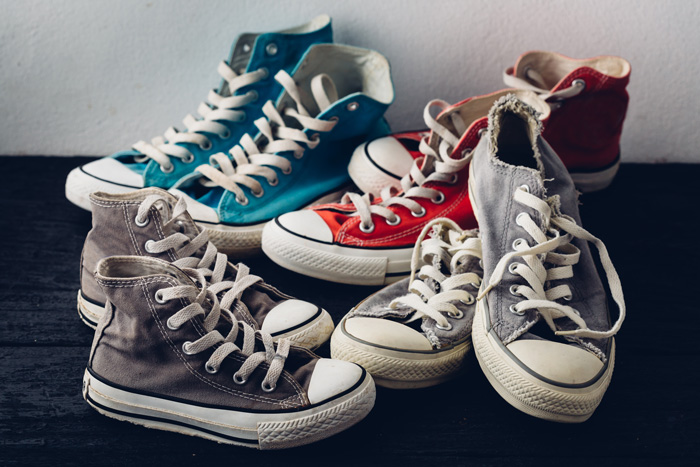 If you are contemplating picking up a pair of "Chucks", then you are verging into a fashion trend that spans several decades of pop culture. From Kurt Cobain donning a pair of Converse in the iconic 'Smells Like Teen Spirit' video, to actress Scarlett Johansson rocking a pair of pink Chucks at the 2003 Venice Film Festival, these classic kicks are highly visible. But are they really worth owning?
A 100+ Year-Old Fashion Legacy
The company was first known as the 'Converse Rubber Shoe Company' founded by Marquis Mills in 1908 . These shoes got their start in the form of galoshes before they took on the design we all know and love today. The first recognizable shoes came in a brown color with a black rubber sole, not a color combo that would fare too well with consumers in our modern times. Then, in 1920, the basketball shoes were renamed to the "All-Star" and were endorsed by a basketball player named Charles "Chuck" Taylor. This change increased the shoe's popularity, production shot up, and the shoe was taken to an entirely new playing field.
The Pros: The Price is Right
One big reason why many buy Chuck Taylor All Stars is that the price makes them extremely affordable.

While the Nike LeBron Soldier shoes retail around $140 and various Air Jordans retail between $115 and $200, the iconic All Stars high top sneakers cost a cool $55 from the company's website.
You Can Customize Your Chucks
Chucks have an ample amount of charisma. The canvas material makes them prime for artists to use various types of paints and ink to design original artwork, messaging, and create intricate designs on the sneakers.
One Con is they Offer Little Support
If you care more about support than you do style, Converse sneakers may not be the shoe for you. Because they are designed with lightweight material that gives wearers more flexibility than the typical pair of sneakers, this means they lack support. These shoes are regarded as being extremely comfortable, but if you intend to wear them daily and engage in athletics, you could develop problems over time.
If you intend to wear your Chucks a few times a week as casual footwear, you are not as likely to risk foot pain as you would someone who plays sports, runs, or engages in hours of walking.
They Get Dirty, Easily
The bad news is that canvas is a magnet for attracting dirt. So be prepared to regularly clean them if you want that pristine look. The good news is you can toss them in the washing machine. So while they will require more cleaning than an average pair of sneakers, they are at least simple to care for since they are machine washable.
Why You Should Buy Chuck Taylors
Chucks are affordable, stylish, and we all need a pair of shoes to wear in order to compliment a certain look. Though they may not be ideal of every-day wear, they make a statement to any wardrobe, are easy to care for, and are likely to never go out of style.